Fraser Coast Wildlife Sanctuary
Maryborough, Queensland.
Providing a haven for Australian native animals and birds in a natural enviroment.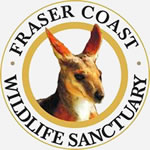 The Fraser Coast Wildlife Sanctuary is open 7 days a week from 10am to 5pm. Feeding time for the kangaroos, wallabies and emus is at 2pm each day.
We specialise in tours for school groups which are both entertaining and educational. Also, bus tours, birthday parties, community events and family day outs are catered for. Bus parking is available.
Country Markets
Monthly markets are held at the Fraser Coast Wildlife Sanctuary on the 3rd and 5th Sunday of the month from 7am to midday. Come and enjoy a relaxing Sunday morning at the 'Sanctuary'. Lots of stalls, plenty of bargains, bric-a-brac, birds fruit and vegies, tools, books, bikes, paintings and much more.
Jumping castles and slippery slide for the kids; sample the sausage sizzle; enjoy some 'Bush donuts' or yummy crepes; cool down with a 'Frosty' or a 'Fusion' ice cream; visit our animals in the Sanctuary, pat a Kangaroo, howl with the Dingoes or laugh with the Kookaburras.
The Sunday Markets at the Fraser Coast Wildlife Sanctuary offer a variety of things to see, do and buy! New stallholders and buskers are always welcome! Contact our market coordinator Helen on (07) 4123 4171.
Gold coin donation entry to markets includes the Sanctuary. All proceeds support the Sanctuary and our wildlife rescue.
ENTRY FEES
Adults (incl. children 13+)
$12.00
Children (2 to 12 years)
$7.50
Children under 2 years
FREE
Family Pass (2 children 13+)
$35.00
Family Pass (2 children 3-12)
$30.00
Disability & Pensioner
$8.00
INTERACTIONS
Snake Experience p.p.
$5.00
Dingo Experience p.p.
$10.00
WISH LIST
The Sanctuary receives no direct government funding and simply relies on volunteers, corporate sponsorships, general sales and indirectly from government employment and training programmes.
We hope you will check out our WISH LIST and help, if you can! Donations can be monetary, items from the wish list, help with repair or building work and the sponsorship of any of our animals.
Thank you very much!
Thanks to the generosity of Richard Bennett and John Hampson from Koppers Wood Products, Takura, the original fence is being rebuilt. Koppers supplied some 160 treated posts and a team of workers towards the project.
This very generous contribution is greatly appreciated by all associated with the sanctuary and will benefit the community as a whole by enhancing the sanctuary as a tourist attraction and a place to spend quality family time.
With the two fences in place the open sanctuary area will be able to be better managed in that we will be able to spell areas in adverse seasons. Obviously the beneficiaries of this will be our animals.
Available at our canteen...
Devonshire Teas
Light Lunches
Hot and Cold Drinks
BBQ Facilities