Fraser Coast Wildlife Sanctuary
Maryborough, Queensland.
Providing a haven for Australian native animals and birds in a natural enviroment.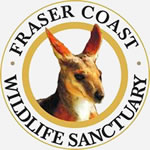 We are appealing for individuals, groups, clubs, companies, businesses, families, community members, schools, etc. to sponsor an animal currently in our care on an annual basis or help us with donations.
• Click on the 'Choose an animal' button to see which animals are available for you to help, then click the 'Sponsorship Application Form' button to sponsor the animal of your choice.
The sanctuary provides a haven for Australian native animals and birds in a natural environment.
As well as providing a facility which people can visit for an enjoyable experience, we promote education and understanding of our native fauna through visits by schools, tour groups, etc.
We also undertake the rescue and rehabilitation of native animals and birds.
Donations and sponsorship resources are used to directly assist with feeding requirements, veterinarian and medical expenses, maintaining enclosures and grounds and direct associated costs. It also helps the wildlife sanctuary to expand and house more animals within a safe and secure environment.
As well as cash donations, we gratefully accept donations of building materials, tools, etc. and suitable food including lucerne, bird seed, fruit and vegetables. See our WISH LIST!
Sponsors will receive a certificate of appreciation and their name will be displayed on our sponsors' board while their sponsorship is current.
Enclosure sponsors' names will be permanently on the sponsors' board and also displayed on the sponsored enclosure.
If you would like more information on our sponsorship programme, please contact us!