Fraser Coast Wildlife Sanctuary
Maryborough, Queensland.
Providing a haven for Australian native animals and birds in a natural enviroment.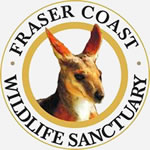 The Fraser Coast Wildlife Sanctuary is the ideal place to plan your next excursion, catering for children and teenagers of all ages.
Planning a group outing? We are a must-visit destination for Day Care, kindergarten, Scouts/Girl Guides and other group or team outings.
Teachers, if you're looking for new and interesting places to take your students, where you can culminate what is being taught in the classroom with relevant, hands-on activities, then the Fraser Coast Wildlife Sanctuary ticks all the boxes.
We specialise in providing school excursions which are memorable for all the right reasons.
Curriculum-linked and student-centred.
Entertaining.
A safe, stimulating environment.
Caters for and appeals to all ages.
Fully guided by our friendly and knowledgeable staff who work with children every day.
Affordable.
Toilet facilities.
Bus parking.
Wheelchair friendly.
Open 7 days 10am to 5pm.
Fully catered. Our canteen provides delicious morning and afternoon teas, as well as light lunches. A BBQ lunch is available.
Hot and cold drinks are available.
Supports the rescue and rehabilitation of native wildlife in our local community.
Promotes education and understanding of our native fauna.
Encourages care and protection of animals and their habitats.
A range of souvenirs are on sale.
A visit to the Wildlife Sanctuary guarantees that visitors will come face-to-face and get up close and personal with a range of animals, from the cute to the quirky and creepy. This gives children a new appreciation for our native species and a fresh insight into how they live. Your students will engage in exciting, enquiry-based learning with a very hands-on approach. In fact, the Wildlife Sanctuary takes 'hands-on' to a new level. Among many things, students will have the rare opportunity to be able to...
Feed and pat kangaroos and wallabies. Look for joeys in the pouch!
Walk through the free flight aviary and admire our colourful Australian birds.
Be entertained by the cockatoos' antics.
Learn about snakes, their eating habits, habitat, and more.
Wrap Muscles, the diamond python, around their neck, or maybe even witness a teacher do it!
Feel the smoothness of a blue tongue lizard.
Kiss Kadar, our resident camel!
Learn about Australia's largest land predator, the dingo.
Be greeted by Charlie, the 30-year-old Long Billed Corella.
Be intrigued by our native beehives.
Tours are flexible. They can be part of a full-day, half-day or quick visit depending on your needs.
Entry is only $7.50 per child, and package deals are available for group bookings. Lunch can be arranged at a small additional cost. Contact our staff for details.
The Fraser Coast Wildlife Sanctuary is located at 79 Mungar Road, Maryborough, only 4km from the Bruce Highway, just a quick bus trip from your establishment. It is a non-for-profit organisation formed by a dedicated band of volunteers, to ensure the future of the sanctuary and its inhabitants.
Wanting to get involved in other ways? See how your establishment could sponsor a native animal at the Fraser Coast Wildlife Sanctuary, or talk to us about making a donation. We are always looking for new sponsors.
For more information, phone (07) 4122 2080.
Contact the above number to secure your place, or to discuss the possibility of bringing an animal encounter show to your establishment.
We look forward to seeing you soon!
The friendly team at Fraser Coast Wildlife Sanctuary Inc.