Fraser Coast Wildlife Sanctuary
Maryborough, Queensland.
Providing a haven for Australian native animals and birds in a natural enviroment.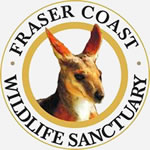 The Fraser Coast Wildlife Sanctuary staff consists of a curator assisted by a dedicated and enthusiastic band of volunteers.
We are involved in the rescue and rehabilitation of native fauna and many of our volunteers are licensed to care for orphaned and injured animals and birds. While we realise the enormity of the task we are taking on, we are excited at the challenge.
We are confident that with the support of Fraser Coast Council, business community, learning institutions, locals and visitors, we can become a major attraction for the area as well as continuing to provide a home for our animals.
We are always looking for volunteers at the Sanctuary. If you think you would be interested in becoming a volunteer please contact us.
History
The Fraser Coast Wildlife Sanctuary came into being in 2004 when Nature World in Hervey Bay closed down. It was established by TESS (Training Employment Support Services) to accommodate the animals that were in need of a new home.
In July, 2013 TESS decided it was time to concentrate on their core business and accepted an offer from Fraser Coast Wildlife Sanctuary Inc. to lease the facility.
The exisiting curator is responsible for the day-to-day operations of the sanctuary.
Mission Statement
The goals of the Fraser Coast Wildlife Sanctuary are:
To provide a haven for Australian native animals and birds in a natural environment
Undertake the rescue and rehabilitation of injured and sick native animals and birds
Promote education and understanding of our native fauna
To contribute to our community and region by providing a facility which people can visit for an enjoyable experience, interact with and increase their knowledge of our native animals and birds
Become a tourist attraction for the Fraser Coast region