Fraser Coast Wildlife Sanctuary
Maryborough, Queensland.
Providing a haven for Australian native animals and birds in a natural enviroment.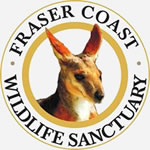 At the Wildlife Sanctuary you can –
Pat a kangaroo, howl with the dingoes and laugh with the kookaburras
Be greeted by Charlie, the 30+ year old Long Billed Corella
Interact with, and learn about Australia's largest land predator, the dingo
Feed kangaroos and wallabies. Look for joeys in the pouch!
Admire our colourful Australian birds in the free flight aviary
Be entertained by the cockatoos' antics
Learn about snakes... their eating habits, habitat, and more
Wrap Muscles, the diamond python, around your neck... if you dare!
Feel the smoothness of a blue tongue lizard
Give Kadar, our resident camel, a kiss!
The Fraser Coast Wildlife Sanctuary Inc. is a not-for-profit organisation formed by a dedicated band of volunteers to ensure the future of the sanctuary and its inhabitants.
We are located in the Heritage City of Maryborough, Queensland, a 3 hour drive north of Brisbane and a short 30 minute drive to Hervey Bay, the whale watching capital of Queensland and the gateway to spectacular Fraser Island.
Our canteen provides delicious morning and afternoon teas, as well as light lunches. Hot and cold drinks are available. A range of souvenirs are on sale. A variety of wildlife paintings by local well-known artists are also on display. Take advantage of our BBQ facilities and enjoy a family picnic with a difference.
We specialise in tours for school groups, which are both entertaining and educational. Bus tours, birthday parties, community events and family day outs are also catered for. Bus parking is available.
Our knowledgeable volunteer staff are happy to guide you and hope you enjoy the sanctuary as much as they do.
Country Markets
Markets are held at the Fraser Coast Wildlife Sanctuary on the third Sunday of every month from 7am to 12noon. There are a variety of stalls with interesting merchandise. Entry to the markets is by donation.
Fraser Coast Wildlife Sanctuary
31 Mungar Road
Maryborough. Queensland. 4650
Phone: (07) 4122 2080
E-mail:
The Fraser Coast Wildlife Sanctuary is located in the heritage city of Maryborough, only 4 klms from the Bruce Highway on the Biggenden turn-off.
We are open 10am to 4pm, 7 days a week (closed Christmas Day) and would love you to visit us!
---
"If paradise would be somewhere in Queensland-definitely here." L.& E., France "A lovely visit. Beautiful. Wonderful time had by all. Great place. Children want to stay." J & K
"Awesome. See yas soon. Lovely staff, knowledge of staff is brilliant. Love it all. Keep up the good work." A & T, Toowoomba "Well done. We will tell the grandkids." D. & C., Alexandra Hills
"Everything is awesome, Snake and dingo experience is a must do. We will be back." Di & Dan, Gympie "Very enjoyable. Friendly animals." J.W., Hervey Bay